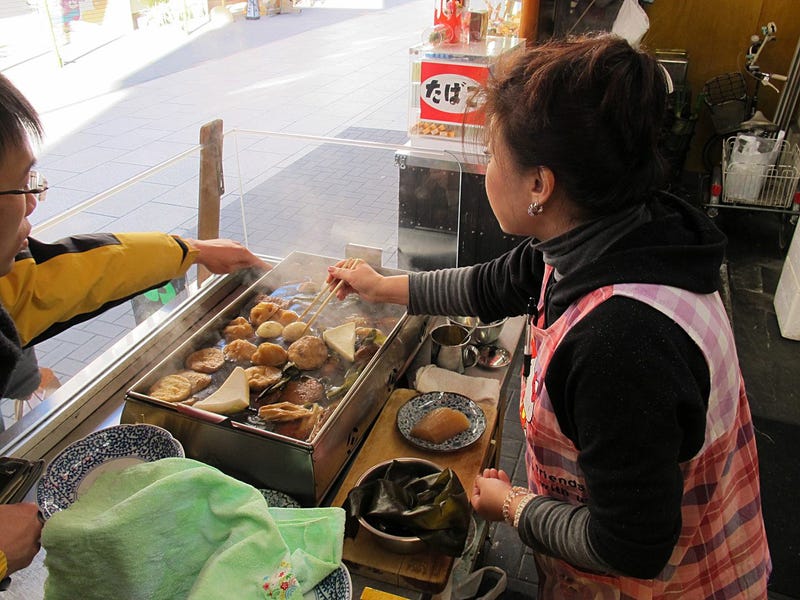 Nice hot oden in Asakusa, warms the soul on a chilly winter morning in Tokyo.
---
Good thing about walking, you can start and stop whenever you like, no need to look for parking space, no need to navigate through train station complexes either. There's several paths through Tokyo's urban center that has interesting things to see along almost every block of the way. This is one that has the most varied of sights, that is, if you can get through the entire route in a day without spending too much time here or there. It could also be done starting and stopping at any place along the route, or in reverse without worrying whether there's food or drink or a place to rest whenever you need it. My default direction is south to north, i prefer to start with sushi. =)
*spots coinciding with Google Map will have a bracketed single letter, so point A in google map will be (A) in the text below.
*I will try to find English links if possible. Links in Japanese will have (JP) after it
Starting point: Shiodome station(A) or Hamarikyu Garden ferry terminal(JP).
Either point will get you to to Hamarikyu Garden(B), a beautiful garden for a lovely stroll in the park to warm up the legs for the long day ahead. Entrance fee is 300yen.
Walk to Tsukiji Fish Market next door, if you didn't start too early, you should arrive here by around 10:30 to 11am, the inner market(C) stalls should be mostly closed by now so you don't have to worry as much about those speedy contraptions fishmongers drive around. You can bypass the inner market and walk directly to the outer market, down to Namiyoke Inari Shrine(JP)(D). Along the way there will be many shops to peruse, most interesting along this road are the ones selling whole katsuobushi blocks. These are what they look like before they're shaved to be those squiggly moving little peels on top of that okonomiyaki or spinach appetizer you've eaten, and the shavings is the basis for one of Japan's main soup stock (the other 2 ingredients are konbu kelp and dried sardines, both of which are also sold here in plenty).
After visiting the shrine, walk around the smaller streets of the outer market. There are many restaurants and food stalls here, especially the standing stalls along the outside street(E). You can see what wasabi and matsutake mushrooms actually look like as opposed to that horseradish-with-green-food-colouring that S&B makes. This would be a great spot to stop for an early lunch, if you haven't already stuffed yourself with fresh tamagoyaki(fried egg flavoured with broth). From here on, walk towards Ginza on Harumi-dori (dori means street) as seen on the map.

My favourite sushi, Aburi-hirame-engawa (flame-charred flounder fin meat) at one of Tsukiji outer market's 24hr sushi joint, Sushizamai Honten.
Along this main road, you'll notice the combination of sparkly new commercial buildings mixed with older European and Japanese architecture, prominent interests includes a pedestrian garden over the Shutoken(inner city) underpass, the Kabukiza Theatre and Wako Building, beautiful 1932 building and one of many shopping centers in the area (and a Mitsukoshi branch is right across the street from it). If you detour here into Chuo-dori, you'll be in luxury goods heaven, almost all the upscale brands have presence here, either as their own individual store fronts or inside one of the many shopping centres here.
Continuing along Harumi-dori, you'll reach a giant curved building called Lumine. walking next to it and under the overhead train, you'll start to see the under the bridge little restaurants of Yurakucho. If you're doing this route in reverse, this would be a great area to look for dinner and alcohol. After that, Bic Camera is a great place to pick up electronics in the area, but Bic Camera also has giant buildings like this everywhere else. After passing through several more blocks of shopping centers, you'll reach the old main entrance of Tokyo Station, the gorgeous brick facade recently renovated. Beneath this entire area, a labyrinth of tunnels and shops leads everywhere and it's very easy to get lost. If you head directly away from Tokyo Station, Chiyoda Palace is just a block away.
From the underground labyrinth find your way towards the Yaesu side exit, getting out of the underground from Marunouchi Trust Towers, follow the google map path an you'll read Nihombashi Bridge. There are several interesting spots in the area, but the main one is just a tiny memorial on the other side of the bridge, commemorating what used to be the old fish market of Tokyo, long before Tsukiji market when Nihombashi bridge was still a wooden bridge.
Past the bridge and past the original Mitsukoshi shopping centre that's still standing today, you'll reach Kanda, the heart of the white collar working class. Past yet another train overpass, at around exit 5 of Kanda Metro station, you'll see Kanda Kikukawa, a famous Unagi restaurant, serving excellent Unagi-don(Grilled Eel over a bed of rice) sine 1947. After that, once you cross a bridge and walk pas the giant Big Apple Pachinko building, you're in Akihabara(I), the world famous electric town. You can take a look at my map here to see where many of the shops are.
Spend however long you want here because there's going to be a lot to see. Once you're done, just keep following the main road down, past Suehirocho station, and in less than 10 minutes, you'll reach Ueno. Turn right after you walk past Matsuzakaya(another big shopping center), and you're in the famous Ueno Ameyoko(J). You'll be walking this from back to front, from the dingy shopping arcades filled with gangsta looking clothing to the weird and exotic souvenir shops closer to Ueno station. From here on out, you can detour into Ueno Park, or continue eastwards, past a big residential area to Kappabashi(K), a street devoted to kitchenware and plastic food samples, the ones you see outside of many restaurants in Japan.
Ueno Ameyoko, front end close to Ueno station.
After Kappabashi, keep heading east and you'll soon reach the backside of Sensoji, the giant temple complex of Asakusa (the Senso part of Sensoji is just a different way of saying Asakusa, the Kanji of both means Sparse Grass). In the back where you'd expect are all the rakugo theatres(Japanese traditional comedian-storytellers) and oden shops, stands an amusement park, and a very tiny one at that. Called Hanayashiki(L), it used to be a garden and zoo before Ueno Park, with it's larger space, succeeded those parts from it.
From there, walk to the side entrance of Sensoji(M), and just before the entrance, enjoy some oden or rent a kimono and have fun walking around the grounds of Sensoji. After that, travel down the Nakamise looking at all the interesting knick-knacks sold in all the little stalls until you reach the impressive giant lantern adorned Kaminarimon(Thunder Gate). Across the street from Kaminarimon is the new Asakusa Tourist Center(N), a tall modern art structure housing a friendly tourist information counter, and if you head up to 8F, a nice outdoor patio where you can have a panoramic view of the entire Sensoji-Nakamise complex all the way over to Tokyo Sky Tree.
View of Nakamise and Sensoji from Asakusa Tourist Center's 8F Viewing Deck.
Coming down from there, head past the bridge over Sumida River into Azumabashi district. There's another highly regarded unagi restaurant here called Kabayaki Unazen. Just past that, as you get really close to the towering Sky Tree, there's an interesting little local park running along the canal called Oyokogawa Shinsui Park(O), and even though it's so close to Sky Tree, very few visitors know about it so it's seldomly filled with people. This end of the very long park has a building built like a little concrete tug boat next to the canal, with a fun roller slide and a big convex mirror for taking selfies with Tokyo Sky Tree.
Last but not least is Tokyo Sky Tree(P). Coming in from this side, you can first enjoy a donut at the special branch of Mister Donut here. There's a big Misdo Pon-de-Lion right in the middle of the shop, and they sell a Pon-de-Lion plushie that's not sold anywhere else in Japan. After the donut break, head into Solamachi shopping centre, visit the observation deck of the Sky Tree tower, buy Ghibli gifts at the Ghibli shop, and relax your feet. It's been a long day.
Here's the full route map on Google Map. Use it as it or use it as a guideline for your own walking tour of the east side of Tokyo.